To celebrate International Beer Day on Friday 6th August 2021, we teamed up with our fellow Essex friends at Bishop Nick Brewery to handpick some perfect pairings of Snacking Essentials products to match their delicious range of canned craft beers.
A SPICY TAKE ON A CLASSIC PAIRING!
Spicy Snack Mix with Chill'd Lager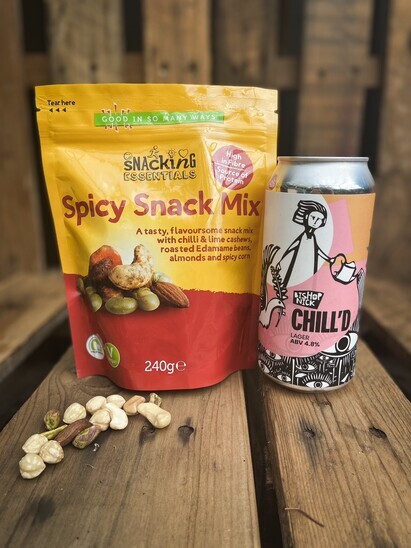 Our Spicy Snack Mix packs a punch with chilli flavoured cashews balanced out with lime, beautifully roasted edamame beans, almonds and spicy corn. Wash down a handful of this perfectly seasoned mix with this refreshing pilsner-style lager. Crisp, clean and truly thirst-quenching, Chill'd satisfies your taste buds with subtlety and complexity that only an authentic small-batch brewing process can accomplish.


A DECADENT DUO!
Salted Caramelised Peanuts & Cashews with Roast'd Milk Coffee Stout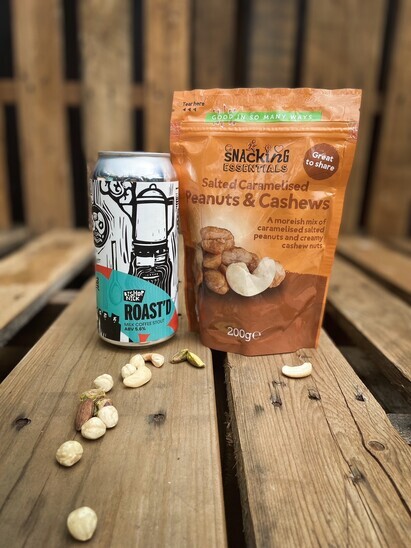 The warming blend of this satisfyingly smooth stout with roasted coffee flavours accompanied by hints of chocolate, toffee and biscuity maltiness just had to be combined with our mouth-watering caramelised peanuts with honey and salt and creamy cashews. Together, we think this mix creates an indulgent combination that will be bittersweet to finish.
A SWEET, MALTY AND SALTY MIX!
Smoked & Salted Nut Mix with Tattoo'd New Zealand Hopped Red Ale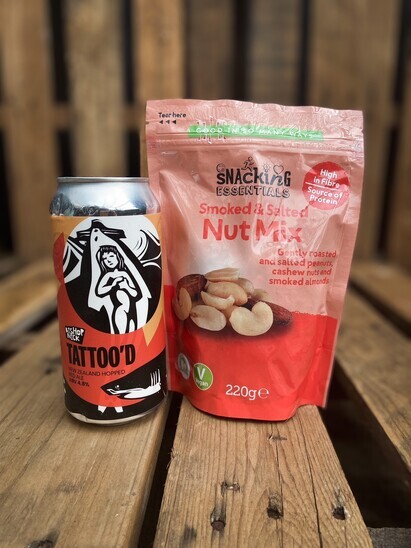 Our Smoked & Salted Nut Mix gives you gently roasted and salted peanuts, cashew nuts and baked almonds with a sumptuous smoke flavour seasoning. Never fear, if any of that gets your thirst rising, we recommend Tattoo'd to accompany. This red ale is hopped with New Zealand's Motueka, Nelson Sauvin and Rakau. It's punchy and robust but delivers an aroma bursting with class citrus and orchid fruits.
KICK BACK WHILST YOU ENJOY THIS COMBO
Barbecue Snack Mix with Cruz'd West Coast IPA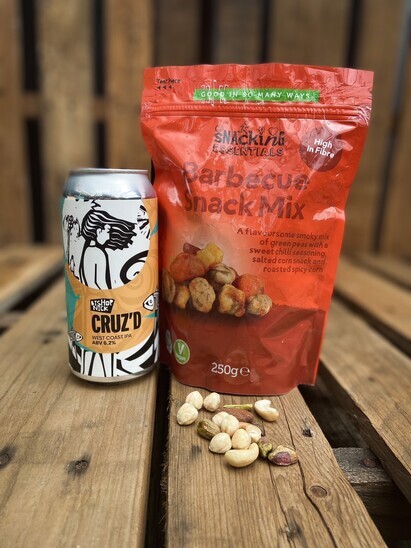 Serving up refreshing notes of melon and pineapple, This West Coast IPA is the beer equivalent of a trip to the beach and a dip in the Pacific. And what's better than a day at the beach? A day at the beach with a barbecue! That's why we chose to pair Cruz'd with our Barbecue Snack Mix. A mix of green peas coated with sweet chilli seasoning, salted and spicy corn snacks, all covered with a beautiful barbecue seasoning. A winning combo!